14-Day Private Tour of Japan
This model itinerary is a perfect all-rounder. It works at any time of the year, and covers all the must-see locations for visitors to Japan.
This 14-Day Private Tour of Japan is our most popular all-rounder itinerary! It covers everything you must see and experience in Japan, and it works any time of the year. For 14 days in Japan, you will explore the modern capital Tokyo, and travel westward to the central part of Japan to see Mt Fuji up close, before heading to the lovely mountainous towns of Matsumoto, Takayama and Shirakawago. Of course, the itinerary extends to ever-popular Hiroshima and Miyajima before concluding the trip in Kyoto and Osaka.
The itinerary is comfortably paced, but you can further modify it to suit your personal preference. This 14-Day Private Tour of Japan is an ideal introduction to Japan's diverse landscapes as well as its classic sights and hidden treasures.
Important notes about our model itineraries:
Our model itineraries are developed to show viewers the ideas for an itinerary and price guide. The itineraries can be further customized, and the accommodation and guide time can be adjusted to suit you. The number of people in your group will affect the price, too. We will give you more firm quotation once we develop your personal itinerary.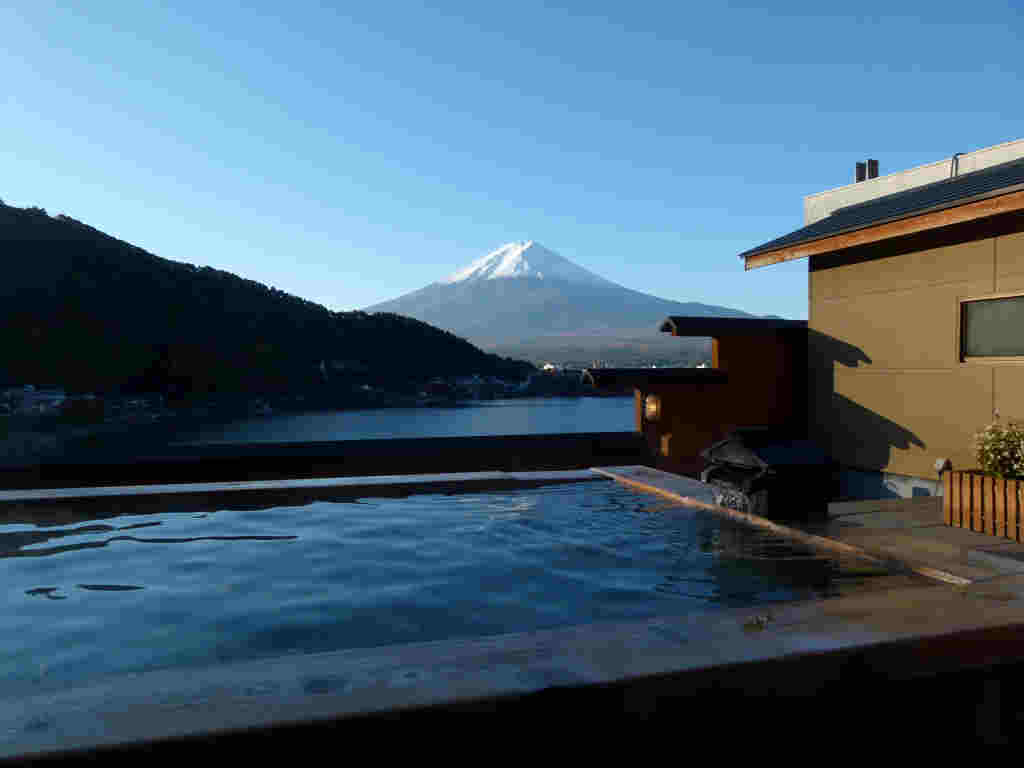 Day 1: Arrival in Tokyo

Welcome to Japan! On arrival at one of Tokyo's international airports, our escort will meet you and take you to your hotel in Tokyo.

Private escort on arrival

Public transport  (private vehicle option available)
Day 2: Guided tour of Tokyo

This morning you will meet your guide at your hotel lobby after breakfast and have a private guided tour of Tokyo. The day's program will be completely customised for your interests and preferences. You can visit old parts of Tokyo such as Asakusa, fashionable Shibuya and Omotesando, the political and commercial centre of Japan, Marunouchi, or anything in between. The day is yours to explore the modern and the quirky sides of this mega capital.

Lunch and dinner are not included but we will make recommendations if you like.

Private guide for 8 hours (4 hour option available)

Trains and subways (private vehicle option available)
Day 3: Self-guided day in Tokyo

Tokyo is fun. It is Day 3 and your turn to venture out to this massive city. But don't worry, Tokyo's transport system is super efficient and organised, and the city is very safe.

Your guide the day before will give you all the information you need, and it is simply so exciting to walk around spontaneously to discover your own treasures. However, if you prefer to have a guide, there is an option, too. Please tell us your preference.

Self-guided day (private guide option available)

Trains and subways (private vehicle option available)
Day 4: Kawaguchiko (Mt Fuji)

This morning you will leave Tokyo by train with your guide to head west to the town of Kawaguchiko, located in the Five Lakes district in the foothills of Mt Fuji.

Kawaguchiko offers some breathtaking views of the majestic Mt Fuji, and its lakes and beautiful natural landscape only add to the beauty of the area.

The visit to Itchiku Kubota Art Museum is strongly recommended, where you see superb examples of kimono art using the centuries-old "shibori" tie-dyeing technique.

Tonight you will stay at a traditional Japanese inn, and have the chance to soak in a hot-spring onsen bath with dramatic views of Mt Fuji across the lake (weather permitting of course!). Dinner will be a multi-course Japanese kaiseki banquet. (Western bed accommodation options are also available.)

Private guide for 8 hours
Day 5: Matsumoto

This morning you experience a traditional Japanese-style breakfast – a nutritious mix of grilled fish, miso soup, rice and pickles! After spending some time in Kawaguchiko, you will head to Matsumoto in Nagano Prefecture, heartland of the Japan Alps.

While in Matsumoto, Matsumoto's castle is a top of must-see list. It is Japan's oldest wooden castle and one of the nation's five castles designated national treasures. The castle garden is home to a number of flowering cherry trees, which we hope will be in blossom during your visit.

Matsumoto is also popular for its cosmopolitan atmosphere and galleries amongst the stunning alpine setting. You can visit the Matsumoto City Museum of Art featuring the avant-garde works of internationally renowned artist Yayoi Kusama.

Breakfast (Japanese style)

Self-guided transfer to Matsumoto (Private guide option available)

Express trains (private vehicle option available)
Day 6: Takayama

Today, you will take a local coach to travel over the Japan Alps through the spectacular scenery to the historical city of Takayama in Hida region. The region was developed as a stronghold of the central government in Edo Period. It still retains many traditional industries such as sake making, rice production, timber furniture and lacquerware. The streets are preserved and you can see the traditional architecture in some of the houses. Today, they mostly house small cafes and shops, making Takayama very attractive to tourists.

Self-guided transfer to Takayama, and private guide in afternoon (4 hours)

Local coach (private vehicle option available)
Day 7: Shirakawago

This morning you will visit a nearby UNESCO World Heritage site of Shirakawago by local coach. Shirakawago is known for a unique architecture called "Gassho Zukuri" with steep thatched roof. Gassho means "hands clasped in a prayer form" You walk around the village with your guide, and learn the life of traditional agricultural village in mountains.

Afternoon is your time to explore back in the town of Takayama at your own pace. Why not trying mouthwatering Hida brand wagyu beef for dinner tonight?

Private guide for 4 hours

Local coach (private vehicle option available)
Day 8: Kyoto

This morning you will take an express train from Takayama to through very scenic valleys and mountains. You will change to shinkansen (bullet train) at Nagoya - there is an option of spending some time here if you prefer. Nagoya is home to the Toyota Industry and Technology Museum and Noritake Garden.

After arriving at Kyoto Station, your private guide will meet you there and take you on a guided tour. Kyoto has myriad of attractions and we will designed the guided tours to match your interests. Apart from iconic sites such as Kinkakuji (Golden Pavilion), Fushimi Inari, Nijo-jo Castle and Heian Jingu Shrine, you can visit more discrete temple gardens, high quality craft and antique galleries such as pottery and silk, or simply stroll atmospheric streets of Kyoto such as the Gion.

There are variety of choices in terms of accommodation and restaurants in Kyoto. Please let us know of your preferences. If you are a group, why not try a private banquet with a maiko (apprentice geisha) to join you for dinner. It will be an unique opportunity to engage with her in person and learn more about this centuries-old art form and the life of a modern-day geisha.

Self-guided transfer to Kyoto, and private guide in afternoon (4 hours)

Express train and shinkansen
Day 9: Kyoto

You will continue your exploration of Kyoto. The full day guided tour with your private guide will give you an opportunity to visit a nearby locations such as Arashiyama, Takao, Kifune or even Nara if you prefer. All our private tours are developed in close contact with our clients to accommodate their interests and preferences as well as personal experiences from our in-depth knowledge and recommendations.
Day 10: Self-guided day in Kyoto

Today is your day to explore Kyoto. You can join a cooking class, tea ceremony experience or how about meditation class at a temple? Perhaps it is time to do the all important shopping as Kyoto has endless choices for traditional and modern products.

Whatever it is, we are here to help you plan your memorable day.
Day 11: Hiroshima

Today you will hop onboard Japan's famous shinkansen and journey down to the iconic sites of Hiroshima.

On arriving in Hiroshima, you will meet our Hiroshima guide at the station and have a guided tour of the Peace Memorial Park and Atomic Bomb Museum. Despite its tragic past, present-day Hiroshima remains very welcoming and vibrant, characterized by wide boulevards and attractive leafy parks. Enjoy some of its characteristic cuisine such as Hiroshima style okonomiyaki.

Self-guided transfer to Hiroshima and private guide in afternoon (4 hours)

Shinkansen, tram and bus (private vehicle option available)
Day 12: Guided tour of Miyajima

This morning a short train and ferry ride take you to one of Japan's top scenic sites – Miyajima. This sacred island is best known for the vermillion-red floating torii gate that sits in the sea in front of Itsukushima Shrine (a UNESCO World Heritage Site).

You can have a guided tour of the shrine, which was originally constructed in 593 when the island was designated a sacred island to be inhabited only by the gods. In the afternoon stroll around Miyajima's Buddhist temples or take the ropeway to the top of the island for breath-taking views of the Inland Sea.

Tonight we recommend you stay overnight at the island, experience ryokan (Japanese style accommodation) once more, and enjoy the kaiseki dinner and futon bedding. However there is an option of going back to Hiroshima and stay another night at a western style hotel there.

Private guide for 8 hours

Local train (private vehicle option available) and ferry
Day 13: Osaka

This morning you experience some quiet time in Miyajima, before the day visitors arrive, and then make your way back to your final destination Osaka. You will have time to discover the vibrant culture of Osaka in the afternoon and evening with a guided tour.

Breakfast (Japanese style)

Self guided transfer to Osaka and private guide in afternoon (6 hours)

Shinkansen, train and subway (private vehicle in Osaka available)
Day 14: Departure

Today you will transfer from your hotel to your exiting airport after breakfast. You can exit Japan from Kansai International Airport or go back to Tokyo and leave from one of the international airports there. We will arrange the transfer for you whichever way you choose.

And of course, you can extend your stay in Japan. Please browse our Tour Extension Model Itineraries on our Private tours page for ideas.

Self-guided transfer (private escort option available)

Airport train or shuttle bus (private vehicle option available)
13 nights accommodation with daily breakfast
Meals as specified
Airport meet & greet and hotel transfer by public transport on arrival
14 Day Japan Rail Pass (Ordinary Class)
Suica IC card with starter credit
Locally licensed English speaking tour guides where specified
International and domestic airfare (unless otherwise stated)
Entrance fees to attractions
Travel insurance
Alcoholic and non-alcoholic beverages
Tips and gratuities (not routinely expected in Japan)
Personal expenses (laundry, internet, telephone, coin lockers etc.)
Visa (if required)
14-Day Private Tour of Japan
Have a question about this tour? Get in touch with our staff directly.