Cherry Blossom Private Tour of Northern Japan
Want to experience Japan's spectacular cherry blossoms in less crowded locations? This cherry blossom private tour is for you! Northern Japan is historic, cultural and scenic. Create unforgettable memories with your partner, families and friends in Japan!
Private Cherry blossom viewing and sightseeing
This Cherry Blossom Private Tour of Northern Japan Model Itinerary takes you to the northern part of Japan's main island, Honshu through to the northmost island of Hokkaido. Along the way, you will stop at historical and scenic locations and enjoy distinct experiences; spectacular bay view at Matsushima, samurai culture in Kakunodate, magnificent cherry blossoms against Hirosaki Castle, exotic atmosphere in Hakodate, traditional onsen in Noboribetsu, and open urban Sapporo. Northern Japan is less crowded and easy to travel. People are warm and friendly. This is an ideal itinerary for a cherry blossom private tour in this popular season .
Naturally this model itinerary can be modified or shortened or extended at either end. Our private tours are very flexible and personal. Please feel free to contact us and discuss your wishes.
Important notes about our model itineraries:
Our model itineraries are developed to show viewers the ideas for an itinerary and price guide. The itineraries can be further customized, and the accommodation and guide time can be adjusted to suit you. The number of people in your group will affect the price, too. We will give you more firm quotation once we develop your personal itinerary.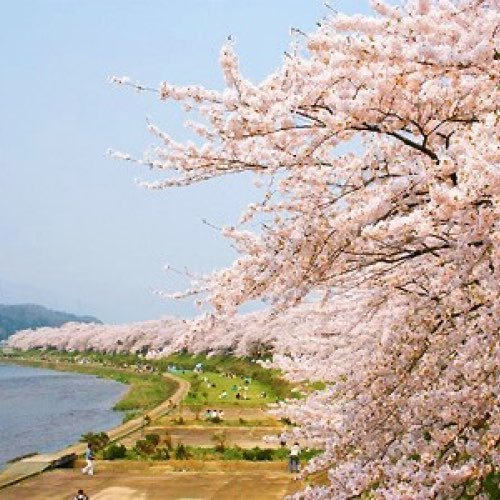 Day 1: Arrival in Tokyo

Welcome to Japan! On arrival at one of Tokyo's international airports for your Cherry Blossom Private Tour of Northern Japan, you will be met by a Journey to the East guide and escorted to your hotel by public transport.

You may have visited Tokyo before, but Tokyo is huge and has many interesting little suburbs. Why not delve into a residential suburb and find your own treasures?

*Note if you arrive in Japan in mid April targeting to see cherry blossoms in northern Japan, the flowers in Tokyo would be mostly finished.

Private escort on arrival

Public transport  (private vehicle option available)
Day 2: Matsushima

Hop on a shinkansen this morning and head north. The first destination of the Cherry Blossom Private Tour of Northern Japan is Matsushima in Miyagi Prefecture. Matsushima's biggest claim to fame is its view of some 260 small pine covered islands dotted in Matsushima Bay. It is considered to be one of the top three scenic spots of Japan, along with Amanohashidate in northern Kyoto and Miyajima near Hiroshima. You can take a bay cruise to be right in the middle of the scenery. It is also a very historic location with plenty of significant sites to visit including Godaido and Zuiganji temples. For foodies, you should not miss Matsushima's freshest seafood especially the oysters.

Private guide for 8 hours

Shinkansen and local train
Day 3: Matsushima

Continue exploring Matsushima today. It is a small town but there is plenty to see and do. You can enjoy traditional green tea and sweets sitting in a Kanrantei tea house looking over the bay. Three islands connected by foot bridges are great places to enjoy light walking. Such a lovely place to just 'chill out'. The flexibility of a cherry blossom private tour will really start to shine through here.

Self-guided (private guide option available)
Day 4: Kakunodate

Once again using Japan's super express shinkansen the Cherry Blossom Private tour take you further north and you will arrive in Kakunodate in Akita Prefecture. The castle town of Kakunodate developed in the early 17th century as a city of samurai and is often referred to as a "Little Kyoto." Though the castle no longer exists, its legacy can be seen in the well-preserved samurai houses, many of which are centuries old and open to public as museums. Kakunodate is also known for its high-quality crafts including unique polished cherry bark ware.

Private guide for 8 hours

Shinkansen and local train
Day 5: Kakunodate

In spring, Kakunodate is covered in pink with weeping cherry trees lining the main old samurai residential area along with some 400 trees along Hinokigawa River. On a fine day, it is great to walk, cycle or have a picnic under the gorgeous flower canopies. The cherry blossom festival is on during late April to early May, during which you can enjoy some entertainment and food stalls.

Breakfast (Japanese style)

Self-guided (Private guide option available)
Day 6: Hirosaki

Venturing even further north, Hirosaki is a well-preserved castle town with Hirosaki Castle at the center. Built by the Tsugaru clan, it is especially well known today for its spectacular cherry blossoms in spring. Mount Iwaki (often called Tsugaru Fuji due to its similarity in shape to Mt Fuji) forms the stunning background. Whether you visit for winter's Snow Lantern Festival, the Cherry Blossom Festival in spring, summer's Neputa Festival, or the autumn foliage, Hirosaki Castle and its grounds are beautiful. Also due for completion in 2025, renovations to the stone foundation offer a unique insight into how Japanese castles were built.

Breakfast (Japanese style)

Self-guided (Private guide option available) 

Shinkansen and local train
Day 7: Hirosaki

Top two recommendations by Journey to the East in Hirosaki are apple pies and Tsugaru Jamisen. Aomori Prefecture is Japan's number one apple producer. Here you will see the sweetest, juiciest and biggest apples you have ever seen! And Hirosaki City is an apple pie capital! The city produces an 8-page coloured brochure showing cafes and patisseries where you can get different styles of apple pies!

The second of many recommendations is to go and listen to the performance of Tsugaru Jamisen. It is a special technique of playing shamisen, unique to the Tsugaru area. The energy of the performance will give you goosebumps.

Self-guided (Private guide option available)

No transport (walk and taxi)
Day 8: Hakodate

Today you travel further north and cross the Tsugaru Straits Kanmon to Japan's northernmost island of Hokkaido. The first destination here is Hakodate. This historic port city has a distinctly European feel to it. During the 19th century, it was designated one of Japan's two foreign trade ports that could legitimately engage with foreign traders, and that foreign influence and architecture make this city so intriguing.

Goryokaku Fort completed in 1855 is the first Western-style fortification in Japan. The fortress was the site of the final battle between the Tokugawa soldiers and the pro-Imperial troops in the Boshin War of 1869. Now it is a public park, and very popular especially in the cherry blossom season.

Self-guided transfer and 4 hour private guide in Hakodate (self-guided option available)
Day 9: Hakodate

Hakodate has so much to see and do. Not to miss is the Hakodate Seafood Market near JR Hakodate Station. Hakodate is Hokkaido's major fishing port and here you will see the freshest salmon roe, sea urchin, crab and other delicacies of the deep. Do look around before sampling them at one of the many eateries around the market. A seafood donburi rice bowl is a local specialty.
The historic Motomachi district is home to many buildings dating back to 19th century with a lot of European influence. Also be sure to take a leisurely stroll through the Kanemori Red Brick Warehouse complex, which is now one of the city's go-to destinations for shopping and dining.
In the evening, head up Mount Hakodate. There is a panoramic view of Hakodate all lit-up at night. Simply magnificent!

Self-guided (private guide option available)

No transport (walk, taxi and tram)
Day 10: Noboribetsu

Today, we suggest you experience Japan's traditional onsen (geothermal hot spring spa). Noboribetsu is one of Hokkaido's premium onsen towns which generates some 10,000 tons of hot water a day. Here your can take the Jigokudani (Hell Valley) Nature Walk, an interesting walk where you can observe intermittently erupting geysers along the path.

Tonight's accommodation is a high class traditional ryokan (Japanese-style inn), where you will sleep on futon bedding in a tatami mat room. Dinner is a kaiseki cuisine which is an exquisite multi-course banquet of seasonal local foods served in a traditional Japanese setting at your accommodation. A very special night to remember on your Private Tour of Northern Japan.

Self-guided (Private guide option available)
Day 11: Sapporo

Finally you reach your last destination, Sapporo, the capital of Hokkaido Prefecture. One of Japan's largest cities and the biggest settlement on the northern island of Hokkaido, Sapporo was originally home to several native Ainu settlements. Officially Sapporo was declared as the capital of Hokkaido by the Meiji government in 1868. Its access to the very furtile Ishikari Plain contributed to the prosperity of Sapporo. Unlike other urban areas of Japan, Sapporo's design received input from western countries, and it has wide and grid pattern streets.

Odori Park in the middle of the city spans across 12 blocks is a great place to stroll and enjoy the city.

Breakfast (Japanese style)

Self-guided transfer and private guide for 4 hours in Sapporo 
Day 12: Sapporo

Sapporo is internationally known as a host of the annual Sapporo Snow Festival. And perhaps the most famous food of Sapporo is ramen! While you are here, you must try this scrumptious noodle in a rich broth.

Sapporo has so many attractions, including Sapporo Clock Tower, Sapporo Beer Museum, and many cultural theme parks. Nearby Otaru is a great place to make a day trip.

Self-guided (Private guide option available)

No transport (private vehicle option available)
Day 13: Departure

This is the end of our model itinerary for Cherry Blossom Private Tour of Northern Japan. However, options from here are endless. You can spend a few more nights in Sapporo, venture out to the rest of Hokkaido, fly into another region of Japan and continue travelling, or exit Japan from Sapporo's international airport or back to Tokyo to fly out. Whatever it is you decide, we will arrange your whole trip to your satisfaction. Please find out more about our Private Tours of Japan, and brows our Private Tour Model Itineraries to get ideas. We look forward to talking to you.

Self-guided transfer (private escort option available)

Public transport (private transfer option available)
12 nights accommodation with daily breakfast
Meals as specified
Airport meet & greet and hotel transfer by public transport on arrival
14-Day Japan Rail Pass (Ordinary Class)
Suica IC card with starter credit
Locally licensed English speaking tour guides where specified
International and domestic airfare (unless otherwise stated)
Entrance fees to attractions
Travel insurance
Alcoholic and non-alcoholic beverages
Tips and gratuities (not routinely expected in Japan)
Personal expenses (laundry, internet, telephone, coin lockers etc.)
Visa (if required)
Cherry Blossom Private Tour of Northern Japan
Have a question about this tour? Get in touch with our staff directly.