As you probably already know Japan has four seasons and each season has different colours. Japanese gardens have been an important part of Japanese art where you can enjoy the beautiful landscape in each season.  Here we have picked our Best 5 Japanese gardens in autumn.
Entsu-in (Matsushima, Miyagi)
Entsu-in is a Buddhist temple located in the town of Matsushima in Miyagi Prefecture. Matsushima is also known as one of the "Three Best Views of Japan" (Nihon Sankei). The Entsu-in's evening illumination in autumn is a must-see! It is an amazing experience, especially when the trees in the garden and footpaths at the temple are lit up. The beauty of the reflections off the water creates an everlasting impression. You will feel that you are in the magical world in this Japanese garden in autumn.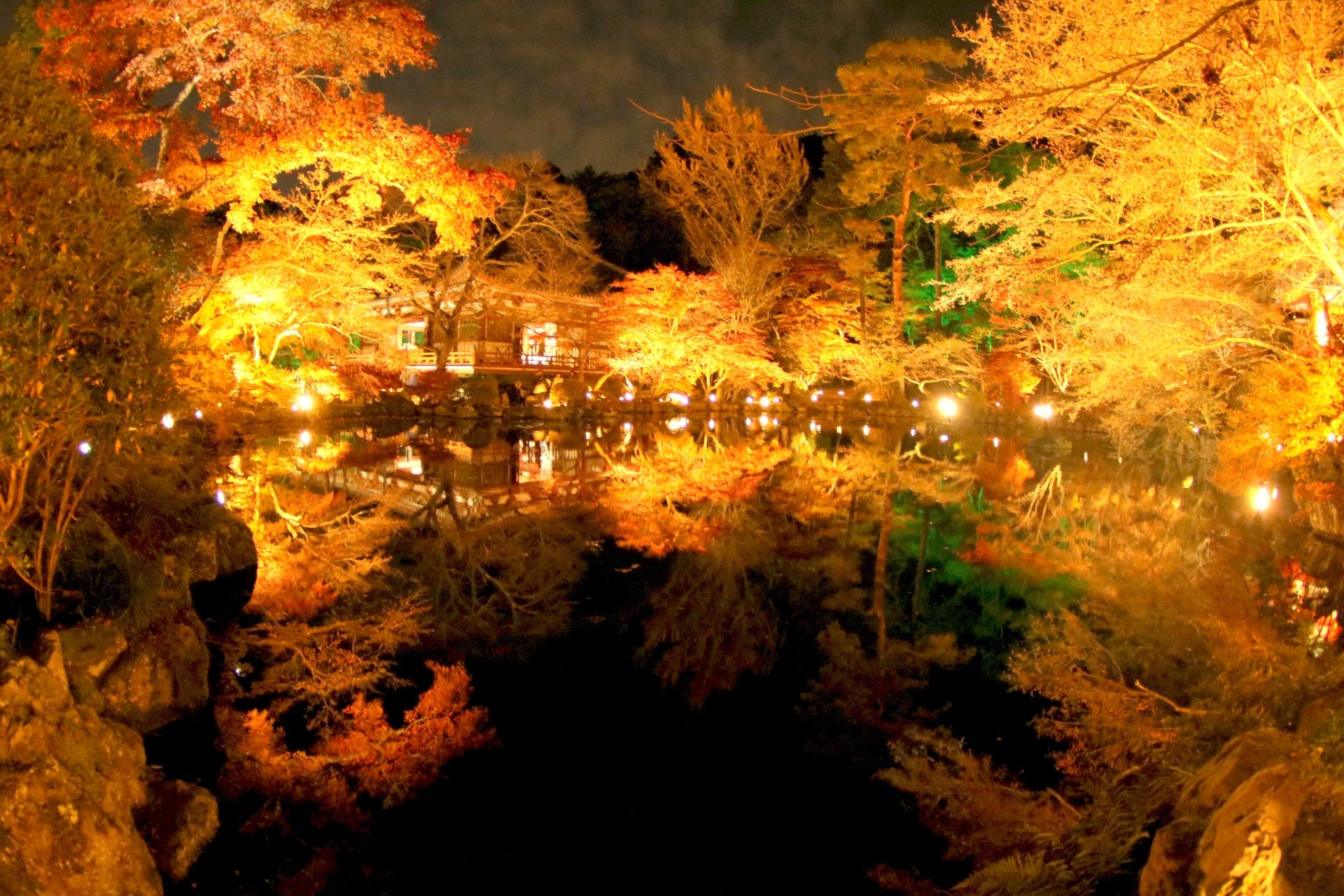 Eikando (Kyoto)
It is needless to say that Kyoto has more than its fair share of magnificent Japanese gardens in autumn. Eikando is in Kyoto and it has been regarded as one of the best autumn colours viewing spots for more than 1,000 years. The temple has a long history, and there are a variety of old buildings and pond gardens that you can explore. There are more than 3,000 maple trees that turn to red and orange, so you can imagine the mass of colours at the autumn peak season around mid-November.
Jojakko-ji (Arashiyama, Kyoto)
Jojakko-ji in Arashiyama, Kyoto is also on our list of the best Japanese gardens during autumn leaves season. The temple is surrounded by the beautiful nature and usually less crowded than other places in Kyoto. As the temple sits on the slope of the mountain, you can see amazing scenery of the cityscape of Kyoto from the lookout area at the top of the temple.
Komyozen-ji (Dazaifu, Fukuoka)
Komyozen-ji is at Dazaifu in Fukuoka Prefecture on Kyushu island. It has traditional stone zen gardens also known as moss temple (koke dera). The green moss represents the land, and the white pebbles represent the sea. Beautiful red maple leaves over the garden make the temple a very popular autumn colours spot.
Komyozen-ji is a few minutes walk from Dazaifu Tenmangu Shrine which is also worth visiting while you are in Fukuoka.
Rikugien (Tokyo)
You can also find spacious traditional Japanese gardens in Tokyo, and many of them are renowned for their autumn beauties. Easily accessed by taxi or subway, Rikugien has been counted as one of the two major landscaping gardens in Tokyo along with Koishikawa Korakuen since the Edo period. During the peak season at Rikugien, the illumination lights up the autumn leaves and creates breathtaking autumn scenery.
Hope you enjoyed our pick of best 5 Japanese gardens in autumn, and we would like to hear your picks, too.
Journey to the East has released 2021 Autumn Tours of Japan. We have wide ranging tours covering all regions of Japan and on many interesting themes from food to walking. Please check out and give us a call!
Please visit our Autumn Tours in Japan